Courtesy The Daily Sun
BY AZIZ HIRANI
It had to be 1-1. How can I even dare to think that we were going to pull-off something as extraordinary as decent, sensible defending in the final minute? I hate it when referees want to be the center of attention in a match of football and unfortunately Phil Dowd was in exactly that mood when he took charge of an already spicy affair at the Stadium of Light in a match of Strength against guile and finesse!
The Song sending-off was baffling and an error that should be condemned by the highest authority in the Premier League. How on Earth can he book a player who hasn't even committed a foul? Error of Professional judgment? Well maybe but then what about the second one? Not in a million years could that have been a "second yellow" when the referee was fully aware of the fact that this could result in the sending off of a player who was harshly booked in the first place! And then why was there no booking when Wilshere was brought down so close to the box?
On top of all this ludicrous officiating, there was the imminent blunder that had to be made by someone and this time it was Tomáš Rosický to steal the show with a penalty that should see him sanctioned to Sunday League Football. Even Arsène Wenger was surprised by the fact that he stepped up to take the penalty rather than Samir Nasri.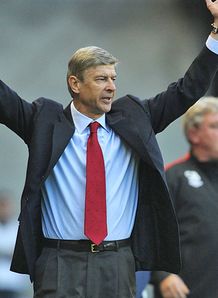 Finally, getting back to the star of the show, the referee of course, can anyone explain how he got the game going on till the 95th minute when the declared injury time was 4 added minutes? Wenger has every right to feel aggrieved by the preposterous officiating of Phil Dowd which cost Arsenal TWO precious points in the title race.
The Stadium of Light is never an easy place to visit and it was really nice to see the way we tried to hold onto our lead. The goal was bizarre but they all count. The central defense pairing showed encouraging signs that we can deal with long balls that Sunderland kept on throwing at us.
However, the disappointing part was that again, we did not play to the whistle and went to sleep for the equalizer. As harsh as I might sound right now, but you don't win trophies like that! Especially when you are down to 10 men, have missed a glorious chance to put the game to bed and have just around 10 more seconds to hold-on to your nerves with the referee on your back.
Even though Almunia did not make any principle error, I can't stop but think that a Goalkeeper like Shay Given would have earned us all 3 points. Why? Because there was a world-class save waiting to be made when Darren Bent hammered the ball into the net. But then, you have to be Top-class for that and unfortunately, Almunia is anything but that!
azizhirani.ah@gmail.com